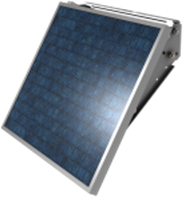 The Campbell Scientific SP20 20 W Solar Panel converts light energy to electricity, or specifically to direct current. The direct current produced is used to provide power to the system and to charge storage batteries. The solar panel operates in both direct and diffuse light (cloudy days), but not at night.  The solar panel is non-regulated so a charge controller is needed.
Quick Facts/Specifications
Maximum Output: 20 W under full sun conditions of 1000 W/m2 at 25 °C
Peak Current: 1.19 A at peak voltage of 16.8 V
Dimensions:

50.0 x 42.2 x 5.1 cm (19.7 x 16.6 x 2 in.)

Weight:

 4.4 kg (9.6 lb)
CH200 Smart 12 V Charging Regulator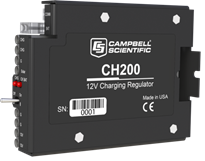 The Campbell Scientific CH200 is a smart charger that incorporates MPPT technology (maximum power point tracking) and can be interrogated by the datalogger to check its state, solar panel status, load currents, battery voltage, and net battery current. In this regard, the CH200 acts as a high-tech sensor, as well as a charge regulator.
Quick Facts/Specifications
Input Voltage Range: 15-40 Vdc
Maximum Charging Current: 4.0 Adc typical
Accuracy:

±1% (on charging voltage over -40° to +60°C)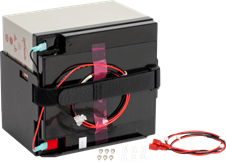 The Campbell Scientific BP24 is a sealed lead acid (SLA) rechargeable 12 Vdc, 24 Ah battery pack that can power a Campbell Scientific system.  It requires a regulated charging source (provided by the CH200 regulator connected to an unregulated SP20 solar panel).  It is intended for high-current-drain systems that require more power.
Quick Facts/Specifications
Output Voltage: 12 Vdc
Nominal Rating: 24 Ah
Dimensions: 21.3 x 17.7 x 13.0 cm (8.4 x 7.0 x 5.1 in.) battery with mounting bracket
Weight: 10.2 kg (22.4 lb)
Cell 210 4G LTE Cellular Modem
The Campbell Scientific CELL210 external cellular module is a 4G LTE cellular device that provides serial or CS I/O connectivity to the Verizon cellular network.  The CELL210 provides Internet connectivity to any Campbell Scientific data logger located within range of a compatible cellular network. Armed with Internet connectivity, a data logger can remotely connect to Campbell Scientific software on a PC, mobile device, and the cloud. The CELL210 can also enable many data loggers to communicate using other Internet protocols, such as Modbus, DNP3, email, and web (HTTP).  Two-way secure communication is facilitated via the Campbell Scientific KonectPBRouter.
Quick Facts/Specifications
Network Technology: 4G LTE CAT-1
Carrier: Verizon
LTE Data Speeds: Max 10 Mbps (download), Max 5 Mbps (upload)
Power Consumption: 300 µA (low power mode), 14 mA (idle), 25 mA (active)